Fishing Charter, Evans Head, NSW
Evans Head Deep Sea Fishing Charters has been in operation since September 2005, offering their customers a unique fishing experience based in the beautiful town of Evans Head NSW Australia. Come and stay in the picturesque fishing village of Evans Head, in northern NSW. Check out our latest dirt cheap fishing deals. Evans Head Charters specialises in catching Pearl Perch and Snapper in 80m of water approx 30km offshore. We also boast world class beach fishing and bring your Tinnie, we have lots of mud crabs in our estuary!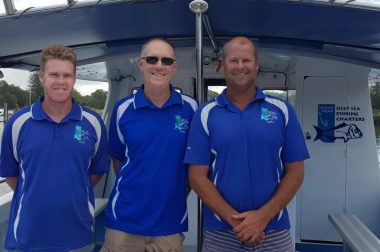 Evans Head Fishing Charters - Operating Since 2005! Mick McGillivray has been operating his own commercial boats off Evans Head for over 20 years. By popular demand, Mick purchased a 38 foot Randa
Visit our Fish Gallery to see some of the awesome catches. Some of them are huge!
Day Charter Individual Charter price - $150 per person (6 hour charter) Group Charter - $1,400 (6 hour charter) Group Charter - $1,650 (8 hour charter out wide) - weather dependent Maxim
Latest Charter Fishing Photos
Take a moment to browse our awesome collection of fish photos.
Beautiful Winter Mornings and Awesome afternoon Jewy sessions!#evansheadfishingcharters#theorinalandthebest Family FriendlyPearl PerchTuskySnapperJewJewJew@max.m.mcgillivrayNight time Jew session...
What Our Clients Say
Primarily going for snappers, means lead down to 80 meters and with two hooks we had good success. 11 People caught over 50 fish in five hours active fishing, out of which two were 20 - Pounds - snappers. Skipper knew where to take us and was generally very knowledge about fishing and species. Upon hooking Rock Cods he was always alert that not anyone of us removed the hook (fish is poisonous) and jumped to our help, same when lines got entangled. Gutting the fish took place on the cleaning tables directly at the harbour and NOT on the boat (good!). Charge: A$ 150 per head for six hours in total is reasonable, success was there, so all in all I recommend it.
-Good Adventure
Booking was not a problem, we were able to negotiate an alternate day as conditions weren't favourable on the original planned day. The owner kept in contact prior to the day, keeping me well informed on expected conditions etc. Eight of us headed out on a perfect morning at 6am sharp. The skipper was awesome, putting us right on the spot from the very first drift. Within minutes we were reeling in solid snapper, drag & flathead. We had enough fish for all onboard within just a few hours. The skipper was super knowledgable of the area, friendly and keen to make sure we were all having a good day. The boat is well equipped and good to fish from. We all had a great day, I'll be booking another trip for sure!
-A Great Day Out!